The Michelle Ozanne Social Connection
North County real estate was introduced to a real star in 2017 when Michelle Ozanne became a Realtor®! She's a wife, mom of three (two girls, 21 and 17, and one boy, 15) and a friend to many. Michelle moved from a career with a master's degree in social work, to a profession as a full-time agent in the fast-moving San Diego market. With a 10-year stretch as a stay-at-home mom, Michelle was the PTA Board and President of NCL Del Sol Chapter (National Charity League). Prior to that, she was involved in foster care and adoption. It's obvious that the social component is what drives Michelle. Committing to her relationships with people – both personally and professionally – is what has amplified Michelle's well-rounded success through the years and currently as a California real estate specialist with COMPASS. 
The… Why?
If we're lucky, we get to wake up with a "Why?" as a motivator for rising and taking on the day. I wanted to know Michelle's "Why?" 
Why did you get into real estate? I am a connector, and I love helping others. When I was in the foster care/adoption industry, I was doing real estate, just in a different way but the mission was the same – helping others find a home. My priority is for others to have a home where they feel safe, happy and can create lifetime memories. So whether it's a foster child in a long-term foster home, a child who's being adopted into a new family or a first-time home buyer moving here from the Bay Area, my mission, passion and commitment have been the same. I don't even pay attention to the $$$ of real estate (until I have to for tax purposes). For me, it is about serving others. I love this quote: 
"You can have everything in life you want, if you will just help other people get what they want." 

~Zig Ziglar
The Dedicated & Specialized Client Services
There's a reason Michelle has been voted a two-time recipient of the COMPASS Culture Champion award.  She makes her clients her number one priority. She has also been recognized as the Real Trends Top 1.49% of the 1.6 million agents in the U.S.  She was an invited attendee at The 100 Event of top agents at COMPASS in 2021 and received the SDAR Excellence Gold Level Award. Michelle commits her time to each client. When I asked her the following question, her response was an eye-opening realization of her outstanding level of service:
What are some of the most unusual things you have done for a client that underscore your unique level of dedicated client-driven services? I pay for all staging for my sellers, in addition to high-end photography and video-and-marketing materials. I clean when needed and pick up boxes for my clients. I have driven my clients' kids to and from school; taken their pets in my car during showings; cleaned out homes late into the evening; done mulching; made dumpster & landfill runs with leftover garbage. I also [take pleasure in giving] very nice closing gifts. I watch and listen throughout my relationship with my clients so I can get them a gift I know they will want and love!
The Communication Component
Most know, that communication is key when dealing with the public. But turning the first introduction into a productive working relationship takes skill and an ongoing give and take that makes listening and responding to concerns a feature. Highlighting those dynamics I asked Michelle what sets her apart from others in the business and to note who is her typical client:
How is your style of business and client interaction different from other Realtors? I am a relationship-based agent first and a transaction-based Realtor® second. Building a relationship, trust and confidence with my clients, is my priority. The negotiating and business piece of my job is easy once I have the relationship and trust established. I work really hard and answer my phone at all times. I am also dedicated to having this process be fun and as stress-free as possible. I want my clients to feel like they are my ONLY clients even when they aren't. I am committed to communication, kindness, problem-solving and doing what is in the best interest of my clients.
Who is your typical client? Downsizing families; families moving up to a bigger home; first-time homebuyers; single clients; clients moving out of state; clients moving to CA; and clients securing or selling investment properties are my typical clients.
With Michelle as your real estate agent you won't be left guessing where your offer stands on that dream house that caught your eye. Your inspired visions of family parties poolside or cozy nights by the living room fireplace become your reality with Michelle guiding your home-buying experience. Michelle's ready to offer, counter-offer, and if necessary, re-up again, if that's her client's wish. Participating in the bidding mix is often a reality in the coastal SoCal market. Communication is key. Since the bidding process can often be the norm, here in North County, I asked Michelle the important next question:
How do you navigate the multiple bidding process for clients? I use a Summary of Multiple Offers sheet. I provide neutral advice to my clients, and I have discussions looking at the overall terms of the offer (not just price). I also over communicate with clients and with the buyers' agents. Communication, relationship building and follow through are KEY.
How is working as a buyers' agent different from working as a listing agent?
As a buyers' agent, I can take extra time because buyers typically like to see a ton of homes before they find "the one!"  Sometimes it happens fast. As a buyer's agent, I network and connect with every agent I know–including off-market properties for sale, coming soon listings, etc. That way my buyers can purchase a house without competition. As a buyers' agent, I study the market, day in and day out, so I am on top of the housing inventory, homes back on market, etc. My buyers often feel bad when I have to schedule a ton of showings and they don't like any of the homes. I tell them it's part of the process; it's my job and I love creating memories and a story until we find "the one." I've had a lot of crazy things happen and have seen interesting things during our showings. It brings humor & lightness to the home-buying journey.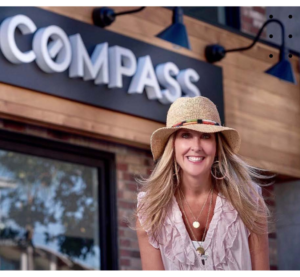 Alternatively, as a listing agent, my goal is to prep the house in the best way possible. We want buyers (who typically decide [their level of interest] within 60 seconds or less of walking into a home) to gravitate, [linger] be excited and want more of the home. That's my goal. I stage it beautifully, everything is clean and organized — no clutter, light, warm and bright. I often have music on or the exterior fountains running to have prospective buyers feel like they could see themselves living there. Then, it's all about connecting with the buyer's agent, and the buyers, providing them both with valuable info on the home and the neighborhood.
The Queen Bee
You may have noticed it: Michelle Ozanne loves bees. What is it about the bee that makes Michelle buzz? I asked MO all about her Queen Bee reputation in North County:

Please describe the Queen Bee mascot association and how you use it to market your business. The Bee is a fascinating insect, and what it does is pretty incredible. It creates hives (homes for bees). I create/find homes for my clients. The Queen Bee has to work with other bees to create this. I have to work with my team (escrow, title, other agents, lenders, appraisers, contractors, transaction coordinator, stager, photographer, etc). Bees are producers. I, as an agent, am a producer.
Bees are important to human life. Agents are important to the real estate world. Bees are assertive. I am assertive and an advocate for my clients. The Queen Bee has one task… to grow a colony.  My task as an agent is to grow my business helping others find a home (their hive).
Michelle has also put into practice her #beekind initiative where she donates 10% of her commissions to a charitable organization of her client's choice.
The MO "Love Connection"
It seems clear to me that when Michelle Ozanne takes on her day she's committing each moment to doing something she loves. It's also clear to me that MO just "loves" as a matter of living. Knowing that about Michelle inspired me to ask a series of "Love Connection" questions to really get a feel for what makes MO tick. 
What do you love about being in the real estate industry? I really love everything even when the negotiations on offers or requests for repairs can get challenging. [Here's what I take the most pleasure in:] Telling my clients an offer had been accepted or telling them we received great offers; handing the keys to them; giving closing gifts (I make sure they are custom to each client); revealing my seller's house after I have had it cleaned and staged and they didn't have to do anything; communicating with them months, or years, after the sale when they tell me how happy they are in their home. I also LOVE my first-time home buyers. I think I have cried every single time with them when they have moved in. I could go on and on. I am VERY enthusiastic about my passion and love for what I do!   
Specifically, what do you love about North County real estate? [North County] is an amazing place to live! I know this area so well and feel like I am very connected with agents, community partners, teachers, philanthropy organizations, etc. People want to live here, and being a local expert, I feel like I have an advantage, finding off-market properties for clients and really being able to educate this community on the real estate world, educational system, etc. Plus, all the homes are beautiful, great walking/biking trails, access to The 5, beach and new restaurants.
What do you love about Compass? How is Compass different from other brokerages? I love what COMPASS has to offer (technology, marketing, support, network of agents, integrity of the agents and staff)  I could write a book about this question. Our CEO and the leadership team run COMPASS based on nine entrepreneurial principles [to be shared in an upcoming post], and I have never seen a brokerage firm care as much as they do for their agents. They know if they take care of us, we will have our focus just on taking care of our clients. COMPASS is Google-smart and Apple-easy for agents and our clients.
Do you work throughout the county? I work with anyone and everyone and anywhere — from SD to Orange County! At COMPASS, I have the unique opportunity to work with agents across the US. If someone in our area is moving and needs an agent in a different city or state, within minutes, I can refer them to top-producing, expert agents anywhere in the US.
The Wrap Up
Michelle Ozanne is a consummate professional who treats her clients with the care and attention of a committed friend. MO  is uniquely qualified to help you "find your hive" here in North County and beyond. I had two important last questions for those interested in connecting with her: 
What's the best final message or impression you like to leave with a client after a successful transaction and working relationship has wrapped up?
After we close a home for my sellers or buyers, I want them to feel like they
made the right choice in hiring me as their trusted advisor. I want them to know and feel that I
had their best interest throughout the entire process. Even when it got challenging, they trusted me and knew I would get the job done. I want them to say I was kind, fun,  business savvy and that they would absolutely refer or recommend me to others asking for a real estate agent.  I want them to remember me years down the line and say "buying a home or selling a home with Michelle was a great experience."
What's the best way for new clients to get in touch with you? Call or text me anytime. 760.685.3295  My email is [email protected] and my website is https://queenbeerealtor.com/ | CA DRE# 02011208
The North County Moms is pleased to add Michelle Ozanne's outstanding COMPASS real estate services to its growing list of marketing partners!
Editorial written by Maria Felicia Kelley.