It's early December, which means only one thing: it's time to start the countdown to Christmas! For many families, this entails breaking out the advent calendar. But  what is an advent calendar, and why do we countdown to Christmas day? Today is the best day to explore the history and meaning behind a family-favorite Christmastime ritual. I'll even share some fun ideas on how kids and adults can create their own advent calendar!
Advent calendar history
Advent calendars date as far back as the 1500s, but they grew in popularity by the 1800s. "Advent" is a Latin word that means "arrival." The word used in religious context actually marks the first of four Advent Sundays leading up to the birthday of Christ.
One of the earliest references to an advent calendar comes from the Protestant reformer, Martin Luther. In 1522, he created a small paper calendar with four Sundays marked off and gave it to his children. Each day leading up to Christmas, they would open a door on the calendar and read a Bible story.
The origins of the modern-day advent calendar can be traced to the Protestant Reformation in Germany. At that time, Christians began using an advent calendar to count down the days until Christmas. Each day, they would open a new window (or a door) on the calendar to reveal a picture or message related to Christmas.
Types of advent calendars
Fast forward a few hundred years, and advent calendars are now widely used by Christians and non-Christians alike. Today, you can find many types of advent calendars online,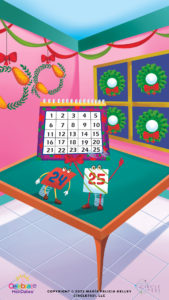 in department stores and even in grocery stores. They come in all shapes and sizes, with various treats and activities hidden behind each door. They are part of the tradition of celebrating the season for many families, referenced often in modern culture – on TV, online and in books, including my kids' book, December Twenty-Five: 12/25, part of the Celebrate the HoliDates® children's holiday book series.
Advent calendars have evolved with the times. These days, you can find all kinds full of treats, activities and games for both kids and adults. They may be made of cardboard, fabric or wood. I've even seen plastic ones! Usually a store-bought boxed advent calendar is categorized by a theme. Some that I've come across and purchased through the years contain:
Legos

chocolates

marshmallows

ornaments

stickers
Those are just a handful, but somehow I don't think the contents behind the doors or inside the pockets matter that much. Sure, most kids like candy, but I think the mystery of opening a new door each day, not knowing what they'll find, is thrilling for kids. 
In our home, we began a ritual of hanging an advent calendar along the wall of our staircase each year. I remember buying it for my oldest son, Ian's fifth Christmas and my middle son, Nico's third. At the time, I was  pregnant with my third son, Constantine, and was experiencing a bit of "pregnancy brain." The "nesting" phenomenon found natural expression, while establishing this holiday-home ritual for our young family.
A ritual & a fun activity
Adding an advent calendar to the mix of your household holiday decor, creates a holiday-centric activity. It also establishes a focal point of fun around a special ritual that broadens the appeal and sacredness of the impending year-end event.  When I realized the joy centered around setting up the daily calendar activity, my husband and I loved telling the tale of Santa's elves leaving little overnight treats for good little boys.  
Back then, Ian and Nico were too young to realize that it was their mom who filled the numbered slots with organic candy one day, mini-popcorn balls or cookies for some of the others. It was fun alternating a variety of flavors or types of each of those items as the days went by. It also promoted fun late-night snacking as I worked my elfin magic secretly after the kids had gone to bed. As I inventoried my stash of overflowing candies and treats – while sampling a few in the process – I always made a point of reserving the best of the stockpile for Christmas Eve and Christmas Day.
Creative ideas for advent calendar goodies
With the recyclable, decorative cloth wall hangings with a variety of pocket sizes, like ours, you can get creative. I suggest filling each pocket with a combination of  handmade ornaments, candy and small gifts throughout the 25 days. Occasionally, you might run into sizing challenges for items you really want to include but don't fit inside the designated pocket. 
For example, our favorite good-quality calendar has some sewn-in pockets that are pretty small. A couple are so tiny that they can be a challenge to load, unless you fill them with small candies like M&Ms. One year, it occurred to me that the smallest opening was large enough to accommodate the hook of a few candy canes while leaving the long part of the cane dangling down in front of the pocket. Sure, the fun of digging for the hidden treasure gets compromised, but it's a little twist on the daily dig. Imagine the surprise of waking up to a large candy cane hanging in full view with your name on it and not a concealed bit-sized goodie that tends to leave giddy children wanting a little more!
Lucky receivers, especially younger kids, are often delighted just to play the daily countdown game to the big day. And whether chocolates, mini toys, ornaments, stickers or a combination of all of those items, or others, the excitement around waking up each day for a new goodie – whether edible or inedible – can be thrilling. The entire three-week long advent calendar ritual becomes a practical lesson in calendar knowledge – one of the goals of my holiday book series, Celebrate the HoliDates®. Kids who aren't familiar with time and scheduling get to engage with an advent calendar for a few weeks and begin to get a feel for marking elapsed time.
Through the years, I've usually given my kids candies in the pockets. As they've gotten older and their candy/food preferences have become more definitive, I tend to lean into filling the calendar with things I know they'll like.  But for a certain December b-day boy, I do try to make things a little more intriguing. For my youngest, Constantine, I have inserted notes into the pockets, sending him on a scavenger hunt around the house to find a Christmas-related birthday gift, like a Christmas book, or cute new animal or superhero ornament for him to hang on the Christmas tree.
DIY advent calendar creation
Ready for a family activity the whole family can enjoy together? If so, make your own advent calendar! They're great for your family's enjoyment or as unique gifts for extended family and friends. Plus, it's a smart way to save money on holiday presents while offering a homemade gift during this season of extravagant gifting!
Check out this list of materials to create the calendar and items to insert inside the compartments:
Cardboard, scrapbook paper, fabric or shoe boxes

Scissors, glitter, glue, markers, paint or other craft items

Small toys, chocolates, stickers, ornaments and other goodies

Strips of notepaper labeled with activities the family can share:

A date to ice skate

Tickets to see

The Nutcracker

A voucher to redeem on a given night to tour neighborhood lights

Tickets to a family Christmas-movie night

An invitation to a family Christmas-cookie baking event
Making the calendar
As you weave all these elements together, be sure to give thought to how you'll display your calendar. Will you hang it up or leave it as a tabletop decoration? It's all up to you–totally a personal preference!
Once you've gathered all of your materials, it's time to start creating. First, decide on a design for the calendar. You can draw one yourself or create one using an online template. And don't forget the most important part – the
numbers 1- 25! Many will simply start by cutting out 25 compartments on the cardboard or scrapbook paper. Next, consider what the contents of each compartment will be. What special treat or activity will you include? Let your imagination guide you and your kids while decorating the calendar in any way that expresses your holiday spirit.
The wrap up
The final step is the most celebrated one: filling the pockets with goodies. I suppose some opt to fill each of the 25 days at once. That's not our style. We're daily
calendar fillers. Edible morsels stay fresher and the mythical game around the ritual unfolds daily.
Since our premise is that elves leave the goodies overnight for good little kids, we'd lose a little of the mystery if all the pouches were filled at once. Whether you borrow the elfin magic theory or take a more straightforward approach, be sure to make it special. And, yes, creativity is key! 
Once your advent calendar is complete (or purchased), it's time to hang it or stand it up – depending on the type you purchased or crafted. Now it's time to start the clock and the countdown to Christmas! Enjoy your new family tradition of opening the daily surprises. And, of course, it goes without saying, don't forget to take lots of pictures… You are creating memories around these new traditions to cherish and replicate as the years go by!
The Advent Countdown to Christmas
Written by Maria Felicia Kelley
@1MariaFelicia
The North County Moms