In November, Encinitas got its latest and long-awaited sushi bar. It's a concept that speaks to the town's surfing roots and passion for serving up the finest in fresh fish and seafood. Temaki Bar is part of the Clique Hospitality restaurant group (of Lionfish and Serẽa Coastal Cuisine fame, in San Diego and Coronado, among others in SD County and Las Vegas). Clique Hospitality has found a home for its sushi-inspired concept — Temaki Bar — on the east side of South Coast Highway 101 between D and E Streets in Downtown Encinitas.
Executive Chef Ruiz & his celebrated menu
San Diego native and Executive Chef JoJo Ruiz — a Smart Catch Leader designee of the James Beard Foundation — captains the celebrated Temaki Bar menu. On it, Chef Ruiz spotlights the restaurant's signature handrolls, crafted and served in authentic tradition – a seaweed roll, layered with warm rice and chilled, fresh fish. The Tuna Roll stands out as the Temaki Bar's most popular handroll. With a drizzle of spicy sauce, it's a bonafide lunch and dinner crowd pleaser among the bustling 38-stool, sushi bar seating layout. And, on a recent midweek lunchtime visit, it was exciting to see every one of those more than three-dozen seats, occupied. Temaki Bar embraces the health-driven aspects of consuming sushi with its aspirational tagline: "Eat Here … Live Forever."
In the mood for something cooked? Temaki Bar delights its clientele's tastebuds with Crispy Bang, Bang Shrimp. It's a treat for those who prefer their nibbles get the pan-roll treatment over an open flame prior to enjoying. Or, spark your palate with Dre's Pop N' Rock – a dynamite handroll featuring Bang Bang Shrimp and mango. I can personally attest to the surprising popping action that tickles the tongue with just the first bite. Order the cucumber salad with crunchy garlic, cucumber and sesame and satisfy your mouth with an exciting blend of flavors. The menu boasts several original choices and fun twists on some well-loved sushi classics, like The Kook.. aka Cali — a crab, avocado and cucumber keepsake. Sweet-tooth guests should leave a little wiggle room for the Mochi Ice Cream –  flavors include Vanilla, Strawberry, Mango and Green Tea.
Sips of sake, local brews & other beverages
With an extensive sake list — including a sparkling variety that I enjoyed — Temaki Bar patrons get to round out their sushi samplings with multiple options for rice wine pairing. My guest and I enjoyed the Hana, Hou Hou Shu,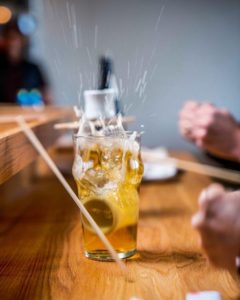 Rosé Sparkling Clouds suggested by our knowledgeable and friendly bar server, Jen. It was slightly sweet and subtly bubbly. As Jen suggested, this sake paired well with the pop of that rockin' handroll.
If, however, you're looking for something a bit more thirst quenching to complement the flavor of the spices, or simply the saltiness of the tamari or soy sauce, you'll definitely be pleased with the on-tap options, featuring both Japanese and local San Diego-area brews. Or, for the adventurous, combine the two alcoholic beverages and ask for a sake bomb, then get ready for a sake-in-beer event! Of course, outstanding red, white and sparkling wines dot the list, as do non-alcoholic features including a Japanese soda, iced green tea and, San Diego-based, Phuture Wtr.
Dining amid  masterpieces 
Matching the mood of the Temaki Bar menu, in extraordinary style, guests are surrounded by the feel of Encinitas. The dining room walls are lined with artifacts of an iconic Encinitas original – professional surfer Rob Machado – and a collection of his carefully crafted boards. Machado's boards adorn the walls in a spectacular artistry of color by world-renowned artist Todd DiCiurcio, who hand painted each to artistic perfection. It's an outstanding, collaborative surfboard triptych. DiCiurcio also worked his color magic on adjacent dining walls with a color bonanza mural. These two master creators have joined forces to blend their talents, and Temaki Bar Encinitas serves as their unique exhibit hall, offering restaurant guests a surf-themed dining experience unlike any other in North County.
Let's talk about the Temaki Bar stoneware. The plates, bowls, and sake cups are locally handcrafted pieces from the Encinitas potter of The Wheel, Michael Totah. The Wheel stoneware is known for its durability and
chip resistant qualities. As its mission statement clearly defines: "[they] provide custom stoneware to complement any culinary presentation." Each skillfully made piece adds to the artisanal feel throughout the establishment.
The wrap up
Lunch or dinner — get ready for an authentic Encinitas experience! With a lot of eye-catching eatables – that taste as fantastic as they look — enjoy sip-satisfying sakes and brews, amid a thematic coastal flair, craftily styled in bold flavors and colors.
Photography credits: Todd DiCiurcio and Rob Machado images provided by Megan DiCiurcio @megsmylove + Venue images: Lucas Parodi @luca.prodi + Food images: Robert Reyes @robertxreyes
Written by Maria Felicia Kelley
@1MariaFelicia
The North County Moms