Introducing Dr. Breanne Reid, Pediatric Dentist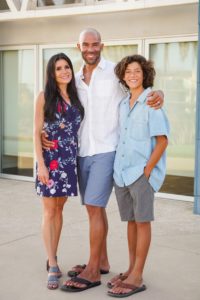 North County families are fortunate to have a new pediatric dentist to care for the dental well being of their children. Last fall, Great Smiles Pediatric Dentistry and Orthodontics, with two locations in Solana Beach and Carlsbad, got a new partner, Dr. Breanne Reid.
Dr. Brea — as her patients affectionately call her — is a mom in her own right to a teenage son, Ezra. Dr. Breanne Reid and her husband, anesthesiologist, Dr. Keith Reid cultivate a family life of adventure and love through travel, family sports' pursuits and even through ordinary family game night. But to understand the richness that is their life at its core we need to first travel back to the early days of Dr. Brea when her own dentist recognized a passion in his patient.
I want to make a difference in a young person's life like my own pediatric dentist made in mine.
Helping children — an early calling
María: Why did you choose your specialty as a pediatric dentist?
Dr. Brea: My [own] pediatric dentist saw something in me that I did not, and he offered me a job during the summer between my sophomore and junior year in high school.  I started at the front desk, and then slowly moved to sterilization, then tech to x-ray tech, then on to dental assistant.  I had so much fun working with the children and helping them not be scared while teaching them the importance of taking care of their teeth.
María: What is it about working with children that excited you?
Dr. Brea:  Mainly, I want to make a difference in a young person's life.  To work with children and help them live their healthiest lives and be proud of their smile is an honor. And if I can make a difference in just one life as my pediatric dentist did in mine, that is the best job I could ever ask for.
María: During your younger years, what values did your parents instill in you that helped you believe in yourself?
Dr. Brea: My parents instilled the values of compassion, kindness and helping others in me from a young age, so I knew that my career had to involve those things, somehow.  I had no intention of even going to college (that seemed too expensive), let alone [getting] a doctorate degree!
María: What is it about dental care for kids that animates your excitement in your chosen field?
Dr. Brea: I love the energy of children and their innocence!  Everything is so new, fresh and exciting with a child.  And they are so honest.  Sometimes they are so scared. But it is that transformation that I see from them [moving from] being terrified to then overcoming their fear. [When they are] able to get in the dental chair for their exam and cleaning that is so rewarding.  And, getting them excited to take care of their teeth and gums, as it is the gateway to the body, is a huge part of overall health.
A committed student and a dedicated U.S. Navy veteran
With Dr. Brea's incredible foundation and her exposure to participating in the care of patients as a teenager, I was curious what path she actively took to pursue her dream of becoming a dentist. I learned that Dr. Brea graduated at the top of her class, with a 4.0 GPA, earning a BS in Biology with Highest Distinction from Penn State University in 2002. She went on to complete her Doctor of Dental Surgery (DDS, aka Dentist) at Baltimore College of Dental Surgery at the University of Maryland, four years later.
Serving in the United States Navy, as she completed her studies, Dr. Brea received an Advanced Education in General Dentistry certificate at the Naval Medical Center, here in San Diego, the following year in 2007. Dr. Brea then moved on to complete her pediatric dentistry training with UCLA at Rady Children's Hospital, also here in San Diego.
María: Tell us about your service in the U.S. Navy. What ranking did you achieve and how long did you serve?
Dr. Brea: [I was a] lieutenant. [I served] 4 years active reserves, 4 years active duty and 4 years inactive reserves.
María: Thank you for your service!
…The Navy required an externship, and my choices were Virginia Beach or San Diego. Being an East Coast girl and always wanting to see the West Coast, I chose San Diego. I immediately fell in love with San Diego after only one week of my externship!
Dr. Brea: Thank you!  It was truly an honor to serve in the United States Navy.  It helped to reinforce values that I already held dear – honor, courage, commitment and integrity.  I met so many wonderful people and saw firsthand the sacrifices our serviceman make for our country.
María: How did you weave studying to become a dentist into your naval career?
Dr. Brea: They made it quite easy for us during dental school, I was active reserve which meant I had the time to focus on my studies and training.  During the breaks from school was when I would do things, such as Officers' Indoctrination School [OIS].
María: How did your path lead you to Southern California and San Diego?
Dr. Brea: During my third year of dental school, the Navy required an externship, and my choices were Virginia Beach or San Diego. Being an East Coast girl and always wanting to see the West Coast, I chose San Diego.  I immediately fell in love with San Diego after only one week of my externship.  I played tourist when I wasn't in clinic and went to the zoo, Balboa Park, Sea World, Coronado, etc.
When the time came to put in our request for where we wanted to be stationed after graduating from dental school, we put San Diego as our first choice, and we were granted it!  Thank you to our detailer!  I served at 32nd street Naval Base where I did an Advanced Education in General Dentistry (pretty much another year of dental school).  Then, my next duty station was Miramar!
You mentioned, "we." I understand that you're referring to your husband, the other Dr. Reid.
María: How did you meet your husband and how did your medical aspirations in the Navy align?
Dr. Brea: We met at officers' indoctrination school Newport, Rhode Island.  It is like boot camp for officers. I thought he was very handsome and when he said he only dated tall blonds, I was determined to win him over! He was in medical school, and I was in dental school.
We immediately connected at OIS and continued our relationship after we escaped to the Bahamas before school started again. I knew then I would marry him, although he took a little longer to realize. We share a passion for helping others, making the most out of life each day and experiencing adventures and learning [about] other cultures.
It's always interesting to uncover the paths people take to blend their lives. And since your professional careers seem to parallel, the bond you have seems unique and a foundational component of your marriage. It's happy story!
Back to business…
Refining a dental career with a pediatric specialty
María: How long have you been in practice?
Dr. Brea: I have been practicing dentistry since 2006 and specialized in pediatric dentistry since 2012!  So, 17 years in dentistry overall and 11 years as a pediatric dentist.
María: Tell us about your return to your childhood pediatric dentistry practice as a full-fledged dentist.
Dr. Brea: After I completed my residency, sadly, we had to leave San Diego for my husband's anesthesia residency back at Penn State.  However, there was a positive side, because then I was able to work as a pediatric dentist for my own childhood pediatric dentist from 2012 to 2015.
Wow! There's a symmetry in a return to the inciting action that set your life on your extraordinary career path. That makes me wonder what other influences helped to shape your pursuits in the field of dentistry.
María: Who were some of your other mentors as you developed your career as a dentist, and how did they shape your career?
Dr. Brea: [As previously mentioned] Dwight Ashby, my pediatric dentist as a child is the one that steered me in this path!  I am so thankful to him and his encouragement through the years.  He has a gift for working with special needs patients, and that has always been important to me as so many children with special needs have unmet dental [issues].
Then, William Rawlings, whom I met when he gave a continuing education course on pediatric dentistry at 32nd street [became a mentor]. Knowing that I wanted to specialize, I approached him after the course and picked his brain, so to speak.  Then, I was able to shadow him and absorb all his knowledge and experience like a sponge.  I also had the privilege to learn under him in residency.
---
Since we know you are now a partner at a thriving practice here in North County, I think it's important to know when you and your family found your way back to SoCal.
María: So, tell us, how and when did you move back to San Diego?
Dr. Brea: We moved back to San Diego in 2015 and I practiced in a private practice in Kensington.  I always dreamed of owning my own practice and when the chance came up to partner in at Great Smiles, I could not pass it up.  I had a connection with Great Smiles, as the founding dentist, Dr. William Rawlings, was my mentor [as I previously noted] since we moved out to San Diego in 2006. He was also my attending in residency.  I would shadow his office, then did an internship there during residency and even took my son to him for his early dental visits.  So, I feel honored to now own a part of what he started.
###
In the next installment of "Great Smiles — A Practice Profile" get ready to uncover the ways Dr. Brea is embracing her new-partner role at Great Smiles. Find out how she brings a sense of comfort and reassurance to every family connection she has and how she extends her thoughtful reach throughout the community!
Great Smiles Pediatric Dentistry & Orthodontics — A Practice Profile — Breanne Reid, DDS
Written by Maria Felicia Kelley
@thenorthcountymoms | @1MariaFelicia 
The North County Moms