North County is lucky to have the exceptional services of a top-notch, well-versed fashionista, by the name of Carrie Harkin. Carrie is a personal stylist and fashion consultant extraordinaire. And today, she's our featured fashion expert. Carrie is going to help us find the great good in approaching our closets with eyes wide open.
"One of my superpowers… using my intuition and observations to identify [my clients'] style and stay true to who they are."

— Carrie Harkin, personal stylist & fashion consultant
Closet contents
When was the last time you took a close look inside your closet and honestly assessed its contents? Are you hanging onto clothes from five or ten years ago? Are your garments ordered and grouped in an organized manner? How easy is it for you to put together an outfit on a given week and know which accessory coordinates with what blouse, pant and pump?
If you find yourself answering my questions above in ways that elevate your basal body temperature, causing you to break a slight sweat, take heart, I did too — especially on the question #2. It's hard to study your closet and the stuff inside it. If you feel connected to the pieces you've collected through the years, you're not alone.
I confess. I'm a borderline hoarder. I'm very sentimental. It's hard for me to let go of the dress I wore to my 14-year-old son's first birthday party. Forget about five years; some of my clothes are decades' old. Yes, they're gently worn and in excellent condition, but they're OLD, and probably far from trendy. And there's a lot hanging from the rods with hangers that truly have no shuffle room.
Ready to "edit" your closet?
If you're ready to "edit" your ready-to-wear contents — (the writer in me loves the use of that word as it relates to establishing a healthy purge relationship with my closet's overabundance; or is it my overindulgence?) — establishing recycling and donation goals are excellent motivators as I approach my closet task.
My discussion with Carrie has underscored the importance of maintaining a focus on sharing the affection I have with many items in my closet. Maybe there's someone who might find a new appreciation for the same dress that I love but one that no longer serves me well. Imagine the good karma that might circulate around that prized dress that I once wore on the happy occasion of my youngest's milestone birthday #1.
Without further stress or struggle over what I might find in the deepest crevice of my walk-in closet, let's jump into my conversation with Carrie Harkin, San Diego's fashion champion who is ready to work her magic inside your inner sanctum of clothing memories.
My conversation with Carrie Harkin
María: Carrie, please tell us about your passion for fashion.
Carrie: I've loved fashion ever since I can remember; playing dress up was my favorite thing to do when I was a child. That love never died; [it led me to] a 20-year career in the fashion industry. I love how clothes can change someone's mood, how they perceive and carry themselves and the magic of boosting their confidence. To me, this is invaluable.
I asked Carrie what personal qualities she attributes to her passion for fashion. Carrie summed up the characteristics that bring her success, beginning with her love of people followed by:
Empathy
Intuitiveness
Being observant
Carrie also added, "On the flip side, thanks to my career in buying, I'm detail oriented and enjoy analytics. This comes in handy when dealing with the PR, biz dev and admin side of my business."
María: How would you describe your role as a fashion stylist?
Carrie: My job is to help my clients find their style, to build them a wardrobe that is versatile and makes the ritual of getting dressed effortless. My job is to find pieces and style outfits for them in which they love and make them feel confident. My favorite part of my job is seeing a client's face light up when I style an outfit they love and feel confident in.
María: How does your love of fashion feed your mission as a personal stylist?
Carrie: I see fashion as a tool; it's a tool for confidence. You use it to present yourself to the world and to make a statement of who you are. I love to help people understand this and use fashion as just that. Identifying their style, what makes them feel comfortable yet confident and expresses who they are is always the goal.
María: What is your background in the fashion industry?
Carrie: I went to fashion school in New York City and worked as a buyer and stylist for most of my career in NYC. However, I also lived and worked abroad in Singapore for 5 years and made countless buying trips to Europe & Asia. I have a very broad perspective and knowledge when it comes to brands, style and fashion. However, I grew up on the West Coast so I'm a West Coaster at heart.
María: Where do you find your creative inspiration?
Carrie: I find it anywhere and everywhere; I love people watching and am super observant so going out to eat or for the evening can be very inspirational. Walking down a bustling street, museums, movies, window shopping, social media — I draw from all of them.
María: How does your style advice change with the seasons?       
Carrie: The essence of my style advice doesn't change with the seasons. Dressing for your body type and in colors that flatter you is constant. However, in colder months you can have fun with layering and utilizing your outerwear and scarves. For the warmer months, you can really have fun with color, print and bold jewelry.
María: Do you follow current trends, or do you set your own?
Carrie: A little bit of both 🙂 . I have to be up on all the trends to be sure I'm offering my clients solid advice, but I'm not a huge fan of following shopping trends. Some are fun to sprinkle into your wardrobe but only if the piece is true to your style. For example, a faux leather jacket will live on well past it being a "hot" item.
I loved this bit of detail about Carrie's foresight :
Carrie: I have this ability to spot and wear trends as they make an upswing before they're mainstream because I have my pulse on the industry.
With that confident answer, I knew Carrie was the right person to answer the next one with authority: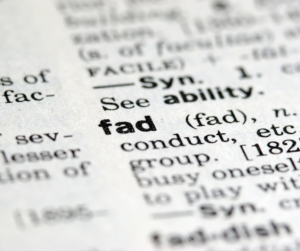 María: How is a fashion trend different from a fad?
Carrie: A fashion trend goes in cycles and evolves over the years. A trendy item goes through periods of popularity then unpopularity and back again. A fad is short lived, coming and going very quickly. It's not easy keeping up with it all and especially social media fads and trends; they are changing/evolving faster than ever.
This is why it's important to stay true to your style and what works best for you. Don't buy something because it's "cool" at the moment. However, if a piece speaks to you and is authentic to your style then by all means get it! Buying into fads and even trends that aren't true to you is a recipe for building a wardrobe that is piece-y and doesn't work together, not to mention a waste of time and money.
So, as we move from the theory and passion that guides Carrie in her stylistic pursuits — while being weary of fads and trends — it was time to get practical and learn how she begins a new relationship with a client. I'm pretty sure the association gets it start somewhere in… a closet…
María: Does a styling relationship with a new client begin with a "closet" review?
Carrie: A lot of the time yes, but not always. Some clients are happy with their wardrobes and just need help with shopping for particular items or styling outfits. Either way, when I first start working with a client, at the very least, I will rummage through their closets with them so I can get to know their wardrobe and style.
María: What is your styling structure? How do you interact with your clients and influence their style?
Carrie: My job is to help my clients identify and fine-tune their style. I ask all of my first-time clients to fill out a questionnaire so I can get into their head and understand who they are. I insist on meeting at their home so I can immerse myself into their world, their lifestyle and get to know their personality. I believe this is one of my superpowers; I use my intuition and observations of them to identify their style and stay true to who they are.
My job is to help my clients find their style, to build them a wardrobe that is versatile and makes the ritual of getting dressed effortless.
My job is to dress them in their style, not mine. I do also believe my job is to test the boundaries and show my clients pieces that are a bit out of their comfort zone, but I think they'll love. Usually, they do end up loving them (not all but most!). I always leave room to play around with trial and error. My clients usually aren't hiring me to stay on the straight and narrow to only shop pieces they're already wearing — whether they realize it or not, they want me to push them so they feel current and put together.
Client mission #1 & #2: Color and versatility
María: What unmet needs do your typical clients have?
Carrie: Two things that come to mind are color and outfit versatility. I find a lot of my clients aren't wearing colors that flatter their skin tone. When you're wearing clothes in colors that make you look dull and washed out you tend to not like your clothes and don't like getting dressed. I do a color analysis for all of my clients so we both can hone in on what tones are best for them and make sure we integrate those colors into their wardrobe.
The second thing is outfit versatility. A lot of people don't shop their own closets enough so they have specific uniforms they stick to. They need me to come in, put outfits together and show them how to mix and match all the pieces in their wardrobe. This way, they get more use out of everything they own. I feel I've done my job when my client says, "I never thought of putting those together!"
It was interesting to find out that there is not set number of garments that Carrie strives for; it all depends on the person and their lifestyle. As she said, "Some people are minimalists and are at ease with not a lot of clothes. Other people enjoy variety and feel better equipped when they have a larger wardrobe." 
The "p" word
Given my closet concerns, I thought this was a great time to ask about the "p" word.
María: How often should people purge their closets?
Carrie: I recommend purging your closet once every year or two; it depends on how often you shop. When purging keep in mind that you have to be ready to replace some or all of the items you let go.
María: What are some basic suggestions to structuring a well-organized closet?
Carrie: Organize your closet by category: I like to go from tops to bottoms and within each category by color from darkest to lightest. This way you easily know where everything is, and it makes getting dressed that much quicker and effortless.
María: What are a few of the first steps to a successful closet makeover and closet maintenance to decrease major overhauls?
Carrie: Go through each piece in your closet, try them on and determine if you should keep it, donate it or get it tailored. If you find pieces you aren't wearing, don't think you'll wear and have no use for anymore, don't hold onto it, donate it!
Most of my clients who I help edit out their closet already have pieces in mind which they don't need anymore. It's taking the step of letting it go which is the hardest. Just know if you donate that piece someone else will greatly benefit from it and will wear it. It will become useful again vs. sitting in the back of your closet.
Using the services of a tailor
So, it sounds like you utilize the services of a good tailor. That's good to know. I tend to let ill-fitting clothing stay in my closet for months before I deal with it, and when all's said and done, it usually ends up in the Goodwill bag. For me, visiting a tailor is one more errand to add to my week, but I'm open to learning about why a tailor is often a good option when you find yourself in clothing limbo.
María: Do you suggest women tailor their ill-fitting garments or recycle their clothing that no longer fits?
Carrie: Yes, absolutely, [use a tailor]! One tool everyone has access to, but rarely utilizes, is a good tailor. I find most people have great pieces in their wardrobes that simply need a little tailoring. These pieces go from never being worn to a favorite! However, if the piece is simply worn out and mis-shaped then it's time to let it go.
María: Local tailors are sometimes difficult to find, do you have a go-to seamstress/tailor that you recommend to your clients?
Carrie: Yes, when I work with my clients, I have a whole list of tailors I recommend and places they can donate their clothes. I am also happy to accompany them to the tailor and work with them to ensure their clothes are tailored just right.
The ideal client
María: Speaking of clients — and knowing that you've worked with hundreds — who is your ideal person to work with and shop for?
Carrie: I believe the timing has to be right for me to work with my clients. My ideal client is ready to invest some time and money in themselves. When I work with a client there is a process that needs to take place so they need to understand and be prepared to go through the process together.
My ideal client is open, welcomes my suggestions and plans ahead. Ideally, we work together on a consistent basis whether that be once a season, dressing for their social events, etc. I like to build a relationship with my clients as this helps me better serve them, and this can take time.
Working with teenagers
María: Do you work with teenagers?
Carrie: Yes! I love working with young people. For most of them, I do what I call a "foundation of style" session. I come to their home, give them a color analysis, measure them to determine their body type and give them style tips & tricks specific to them. This is a perfect gift (graduation, birthday, etc.), as it teaches them the tools to shop and dress more intentionally, thus more cost effectively. Or, I can help them build their wardrobes and/or shop for their special events (e.g., school dances, graduation parties, etc.).
Working with men
María: Do you work with both women and men?
Carrie: Yes!
María: How is working with a man different from a woman?
Carrie: The biggest difference is that men's fashion options are much more straightforward than for women. The categories of clothing for men vs. women are less, so women's wardrobes tend to be more extensive. The pieces in a man's wardrobe are more structured so tailoring and fit are always top of mind. However, for both I take into consideration all of the same things—their lifestyle, outfit versatility, fit, color, textures, all the things that make up a versatile and effortless wardrobe.
Budgeting and length of consultation
María: Do clients give you a budget?
Carrie: Yes, clients usually give me a budget of what they are comfortable spending. If I think their budget won't cover everything, then I'll bring this to their attention. From there they may increase their budget, or we'll prioritize which pieces need to be bought now and which they can hold off on. However, I always try my very best to stay within a client's budget and can usually do so.
Maria: How long is a typical term of your styling partnership with a client?
Carrie: It depends on the client; some are on-going if they need me to consistently shop/style them for their busy lifestyle. If a client is interested in a closet refresh and no on-going services, then our time together is usually about a month. We kick off the process with an initial in-home consultation, then we may go straight to editing out their closet on the same day or I come back another day.
Purchasing and integrating new pieces
After the closet edit, I'll virtually shop for any holes in their closet. Once all of the items bought are delivered to their home I come back over, and we go through all the new pieces together to decide which ones to keep and which ones to return. In that same session I put outfits together utilizing their new pieces with their current wardrobe. Lastly, I put together a look book of all the outfit options from their new wardrobe. This is a catalog they can reference going forward. This process typically takes 6-8 hours. Ideally, we would work together again in about 4-6 months and shop for the next season.
Maria: What is the most common concern for your new clients?
Carrie: The most common thing I currently hear is that they need help editing out their closet and updating their wardrobe. Coming out of the pandemic our culture has changed when it comes to getting dressed. Most people feel a bit lost by what they should be wearing and how to integrate their personal style.
Let the shopping begin!
María: Do you offer joint-shopping trips with your clients to teach them how to shop for clothing and accessories?
Carrie:
I offer group sessions in a client's home in which I do a color analysis and measure each participant and talk about style tips & tricks specific to them.
I also offer style evenings in which the hostess invites a group of her friends over to her home for an evening of style tips & tricks. These are always a lot of fun.
I also periodically partner with local boutiques in which I host a style/shopping evening where I help customers shop and give them style advice.
I also give them little cheat sheets about their colors and body type, so they feel empowered to shop/style themselves. I love when clients send me pictures of their outfits!
María: Do you offer personal shopping services in addition to styling advice?
Carrie: Absolutely, styling is just one of my services. Closet editing and personal shopping are just as important to what I offer. Usually, personal shopping and styling come hand in hand. When I work with a client to style them there are usually pieces that I find which are missing from their wardrobe which we need to style with.
With all Carrie's creative energy, I had to know if she dabbled in other artistic pursuits for self-expression.
María: Do you find creative outlets in other pursuits?
Carrie: I love to paint; I find it very meditative. I also enjoy interior decorating my own home; I am definitely not a professional, but I find joy in it.
María: Anything else you feel is important for our audience to know?
Carrie: I believe style and shopping are very personal, therefore, I try to customize my services and process to each client. Not everyone has the same needs so I always like to discuss prior to working with a client what they are looking for and how I can best help. I don't have one certain way of working. I'm very flexible. I don't want your audience to read this and think they have to go through a certain process or work with me in one specific way – we can discuss the best plan for them. I have a 6-year-old son; I completely understand the need for flexibility!
María: What is the best way for our audience to get in touch?
Carrie: They can email me at [email protected], call or text me at 347.556.9546 or reach out through my website carrieharkin.com. Or DM on IG @carrieharkinstyle – whatever is most comfortable and convenient for them 🙂
Meet a Personal Stylist & Fashion Consultant: Carrie Harkin
Written by Maria Felicia Kelley
@thenorthcountymoms | @1MariaFelicia 
The North County Moms