My high schooler, Nico, likes to sleep as late as he can on weekday mornings. 
Do you have a teen with similar priorities? 
For many late-sleepers, breakfast is an afterthought, or even an omission. But, I think most parents agree, we want our kids to eat something nutritious and satisfying before they leave the house (or at least pack something nutritious to take with them). What Nico goes for may only hit a couple of nutritional notes on the day's crescendo of recommended daily allowances, but at least it's a start at building on his healthy caloric intake for the day.
The culinary breakdown
There's one thing Nico has a passion for – okay there are two – food (creation) and cars! 
For Nico, getting something in his tank is a priority, but it often involves in-the-moment innovation and on-his-toes creativity. Watching him, through mother's eyes, I've witnessed a daily rhythm to his process – like wheels rolling on cool pavement – his movements are fluid. I find myself standing back to watch him. He makes me smile like a proud mom in the grandstands watching her son navigate the track. (Nico's going to hate the car metaphors and similes! Too bad, my love. I like to toot your horn. :)))
It's his process, before he exits the front door, that I find fascinating. I've tried to capture the pit stops Nico makes before he jumps in the car.
Here's a typical morning kitchen scenario:
Beeline to the island drawer & knife block

Sprint to the sink counter

Race to the refrigerator wall

Dash to the party supplies' cabinet

Zip back to the sink countertop
Why all the zipping, sprinting, and dashing on a typical school-day morning…?
The recipe execution
These ingredients will rev your teen's engine and fill their tank so they can get the show on the road! 
Here's Nico's ingredients' checklist from a recent morning rally:
1 apple

Peanut butter

Granola (optional)

Agave (optional)

Yogurt (optional)

Cinnamon (optional)
Necessary tools, utensils & "foodwear"
Cutting board

Paring knife

To-go cup

To-go fork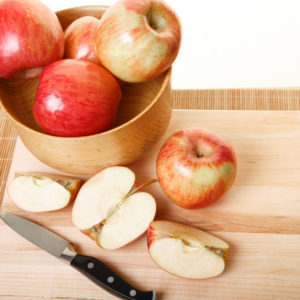 All together now: 
Beeline to the island drawer & knife block for paring knife and cutting board

Sprint to the sink counter to set up your prep area

Race to the refrigerator wall to retrieve an apple and peanut butter

Dash to the party supply cabinet to collect a to-go cup and fork.

Zip back to the sink countertop to prep and build your cup & breakfast hack!
Yield for the mom-focused stuff
Apples and peanut butter check off the following nutritional highlights:
Adequate source of fiber

Good source of protein

No added sugar
Apples contain the following vitamins:
Vitamin C

Vitamin K

Potassium

Folate

Vitamin A

Vitamin B6

Riboflavin

Thiamine

Niacin
Plus, peanut butter is rich in the following vitamins and minerals:
Copper

Manganese

Vitamin B3 (niacin)

Vitamin B6

Folate

Vitamin E

Magnesium

Phosphorus

Potassium

Zinc

Selenium
Encouraging your teen to add apples and peanut butter to their breakfast routine is a great way to start the day in gear, nutritionally.
Oh, and here's one of Nico's collectible car shots in candy apple red to complement his apple cup recipe. Explore more of Nico's auto shots: @nico.collins410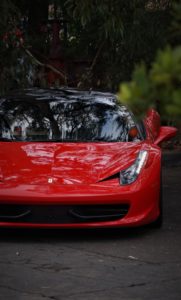 Impromptu recipe created by @nico.collins410. Culinary breakdown & post written by proud mom, Maria Felicia Kelley-Collins.
@1mariafelicia
The North County Moms